The TrAIbe
AI Adoption for Pharma: The Fable of the Hare and the Tortoise
Slow and steady wins the race, but is it still valid today, when new technologies are emerging and developing at a speed the world has never experienced before?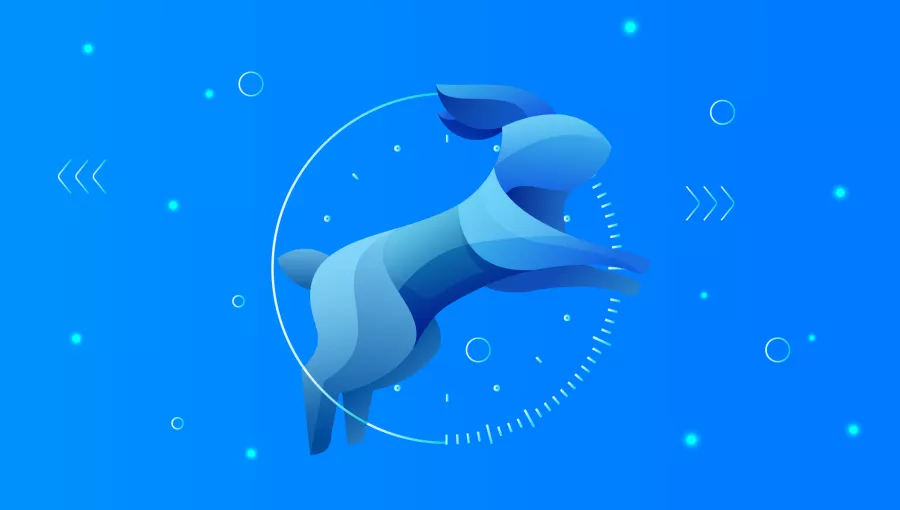 31/05/2023
AI, Customer Engagement, Business Growth
5 min reading
There is a moral in almost every story. Slow and steady wins the race, in this specific case. But is it still valid today, when new technologies are emerging and developing at a speed the world has never experienced before (and certainly, our Aesop could not have known)?
In the McKinsey report "The state of AI in 2022" it was stated that in 2017, 20% of the respondents claimed to have adopted AI in at least one area of their business, while today, in 2023, the percentage stands at 50%.
For the pharmaceutical industry, the case becomes more complex, especially when compared to others. It is well-known that the adoption of new technologies within companies happens relatively slowly. However, this is not the place to delve into the causes of such slowdown, but rather an opportunity for a high-level analysis to understand that we shouldn't generalize and assume that the entire pharmaceutical industry represents the tortoise in the story. Instead, it is important to recognize that both components exist within it. The key lies in finding a way for them to coexist, both to avoid pressing the accelerator too hard (especially if one is not ready), and not falling too far behind.
The Hares - Drivers of Growth and Technological Innovation
According to a Survey conducted by Rackspace Technology, targeting IT leaders in the pharmaceutical industry in December 2022, it was reported that 'more than two-thirds of the respondents (68%) stated that AI and machine learning are at the core of their IT/business strategy, compared to the majority that identified robotics as the most important two years ago. About half of them declared that they have started using AI and machine learning within the past one or two years.'
These numbers are certainly promising, especially in light of the shift in strategy that has occurred over the past two years.
Furthermore, the acceleration towards new technologies adoption becomes even more noticeable with the introduction of AI-based language models like GPT-3. Understanding and harnessing their potential and the actual possibilities they offer becomes essential to keep up and remain competitive in a market where statements like 'we are not ready yet' or 'we don't know where to start' are no longer acceptable.
Companies themselves are a testament to what has just been stated: the ongoing change is undeniable, and those who have decided to embark on this journey are already reaping the rewards (listen to our AIM Talks to learn more).
At Trueblue, all of this is already a reality thanks to AiDEA Suite and the integration of Chat GPT, with significant potential applications for the pharmaceutical industry. Let's explore together three use cases to understand what we're talking about in practical terms:
Optimization of business activities: it simplifies the search for information within medical/scientific documentation, enabling companies to save valuable time and resources.
Contextualized summarization on specific topics, such as Clinical Trials: this provides a significant advantage in understanding and communicating complex and detailed information.
Automation of communications: automated creation of personalized communications based on previous research.
This allows Pharma & Life Science companies to more effectively reach healthcare professionals, patients, and caregivers, improving communication and relationships with stakeholders.
The Tortoises - Barriers and Resistance to Overcome
Let's revisit the survey mentioned in the previous paragraph to highlight another point: "Nearly two-thirds of IT leaders in the pharmaceutical industry (65%) identified the shortage of qualified talent as the primary challenge to AI/machine learning adoption."
In the pharmaceutical sector, therefore, one of the main obstacles to the progress of the AI market is the shortage of qualified personnel. The lack of professionals who are adequately trained in artificial intelligence and its applications in this industry appears to be a significant barrier to the sector's growth.
Last month, during the Reuters Event at Barcellona, we delivered a speech that focused on the barriers currently slowing down the adoption of AI in Pharma & Life Science companies.
Here are some tips on how to overcome them:
Data: the volume and quantity of data available to us is increasing exponentially every day. AI makes it possible to manage and receive just the insights that are meaningful to us;
Behavior: embracing change requires a shift in mindset. It is crucial to educate oneself and stay informed to understand the true potential of AI;
Technology: many companies still use siloed and non-distributed technologies. By adopting a flexible and integrated ecosystem, the use of AI becomes easier and faster.
You can download and discover the other barriers explored in our speech here.
AI is shaping and moulding the pharmaceutical industry in many ways and our experience at Reuters Event Barcelona 2023 proved just that, Customer Engagement being one of the many influenced aspects of work.
However, we have also realized that our perspective is just a small part of the picture. That's why we would like to hear your opinion on how the future of the Pharma & Life Science sectors will evolve with the integration of AI and ChatGPT.
When it comes to innovation, there are two types of attitudes: either accepting it and stay behind competitors, or becoming a key-player who leads constant innovation in the market through new and unexpected applications of AI.
If you fall into the second category, we are confident that you would want your voice to be heard!